Herbal Plant Medicine, Yoga & Cultural Tour
| | |
| --- | --- |
| Where: | Oaxaca, Mexico |
| When: | April 25th – May 2nd, 2018 |
| Duration: | 8 days |
| Group Size | Min 10 – Max 14 |
| Price: | $2395 |
Overview
Come learn about herbal plant medicine from local world famous herbalists, practice yoga & discover the beauty and diversity of Oaxaca.
This is an exclusive authentic adventure and cultural tour that is unmatched in its unique offerings, its expert private guides, its charming boutique accommodations and its attention to detail. You will explore the beauty and diversity of Oaxaca and participate in herbal plant medicine retreat in its fertile highlands. First you will visit Zapotec local artists and healers, tour the colonial city of Oaxaca, eat divine regional cuisine, practice yoga and ecstatic dance with like minded locals and explore the energy of the pyramids. Finish with a 4-day sacred Yoga Herbal Medicine retreat at an eco-lodge in the highlands of Oaxaca with Angela Sarah North. A unique and authentic Journey not to be missed.
Daily Itinerary
These 4 days will be filled with unforgettable behind the scenes experiences that will immerse you into the beauty & uniqueness of Oaxaca, it's archeological sites, outlying indigenous villages and the local healing arts. Your guide, Dawn Feuerberg, has designed a one of a kind experience that is just not available to the casual tourist. During this time you will experience the following: Go to activities & classes, and excursions for more details.
Experience a  traditional temascal (Zapotec ritual sweat bath) with herbalist and healer  Doña                                                                        Enriqueta Contreras.  Wet steam bathing has been a ritual part of Zapotec culture for 2,500 years.

Black pottery tour and Alebrije Art Workshop

Zapotec Weaving Village Tour

Monte Alban Pyramids Ceremonial Tour

Participate in a local yoga class & an ecstatic dance class at a local yoga center. This will be a wonderful opportunity to meet like minded Oaxacans.

Tour the colonial downtown, it's main plaza & off-the-beaten path areas of interest.

Eat local regional cuisine from carefully selected homes & restaurants

Mezcal tasting

A night on the town with Salsa Dancing

Visit the interactive local Organic Farmer's Market and have a beautiful lunch in the plaza while listening to local musicians
You will be staying at a lovely eco-lodge in the highlands just outside of Oaxaca City. Angela Bailey, Yoga instructor at Yoga center of Morro Bay will be leading a 3 day yin yoga and plant medicine retreat. The eco-lodge is located in a small zapotec indigenous town that has beautifully built cabins with wood fireplaces and private bathrooms. You will have the opportunity to get to know the local zapotec peoples and their way of life. The mere fact that we are bringing our group there is helping them sustain their way of life. The famous herbalist and midwife Doña Enriqueta is from this village and we will have a rare opportunity to do an herbal identification hike make herbal hand soap and tinctures with her and her family. Below are more activities that will be available to you during our stay in the mountains.
Rituals & Activities
Yoga  & meditation twice daily with Angela Bailey

mayan & toltec fire ceremony of offering &  gratitude to manifest your highest purpose with Spiritual leader Armando Cruz Sanchez

Herbal identification walk with Doña Enriqueta.

Herbal medicine and soap making workshop

Hike to the local waterfalls or volunteer in local greenhouses

Mandala gratitude offering
Excursions
First we will visit Monte Alban, a massive complex of pyramids, terraces and crumbling temples that was founded in 500 A.D. This ancient ceremonial site is considered to be one of the most important examples of pre-Columbian culture in all of México.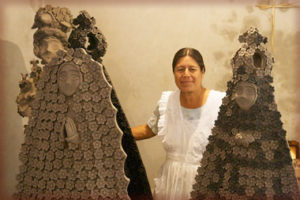 On our return from Monte Alban, we will visit a small village known for it's sculptured pottery that many of its citizens produce. The muñecas, or figures, are fanciful and intricate. This type of pottery has become a unique and very collectible art form as well as a beautiful addition to any decor. You will be given a demonstration by world famous ceramist Irma Blanco.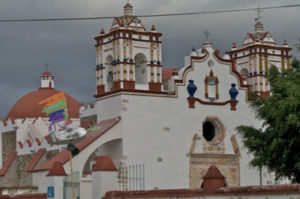 On this excursion we will first visit a small Zapotec indigenous village known for it's production of world famous colorful rugs. (tapetes).
Nearly every home is filled with family members who card, spin and color wool, often using hand-gathered natural dyes.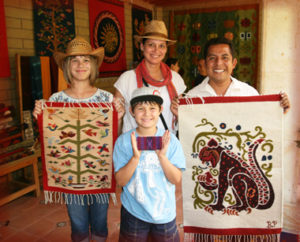 We will spend the afternoon visiting the homes of these Zapotec weavers and walking the cobblestone streets of this village nestled in the mountains of the central valley of Oaxaca. You will be treated to a traditional Zapotec meal before departing.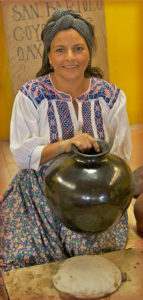 This all day excursion first begins with a visit to a market town just south of Oaxaca City in the Central Valley. The town's artisans are world famous for their black pottery (barro negro). You will then be treated to a beautiful lunch featuring one of the most famous dishes in Mexico, Chile en Nogada.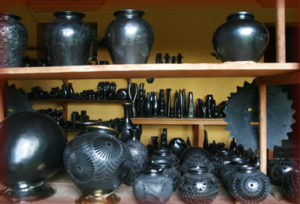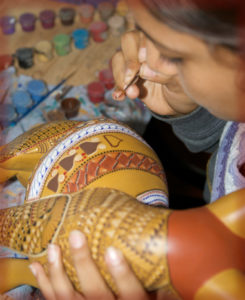 The last stop of the day will be at a small village known for its artisans that produce the fanciful wood carvings called Alebrijes. Participants of the program will have the opportunity to do an alebrije workshop and paint a wood "animalito"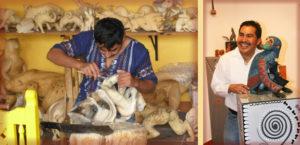 Activities
Location:
Oaxaca, Mexico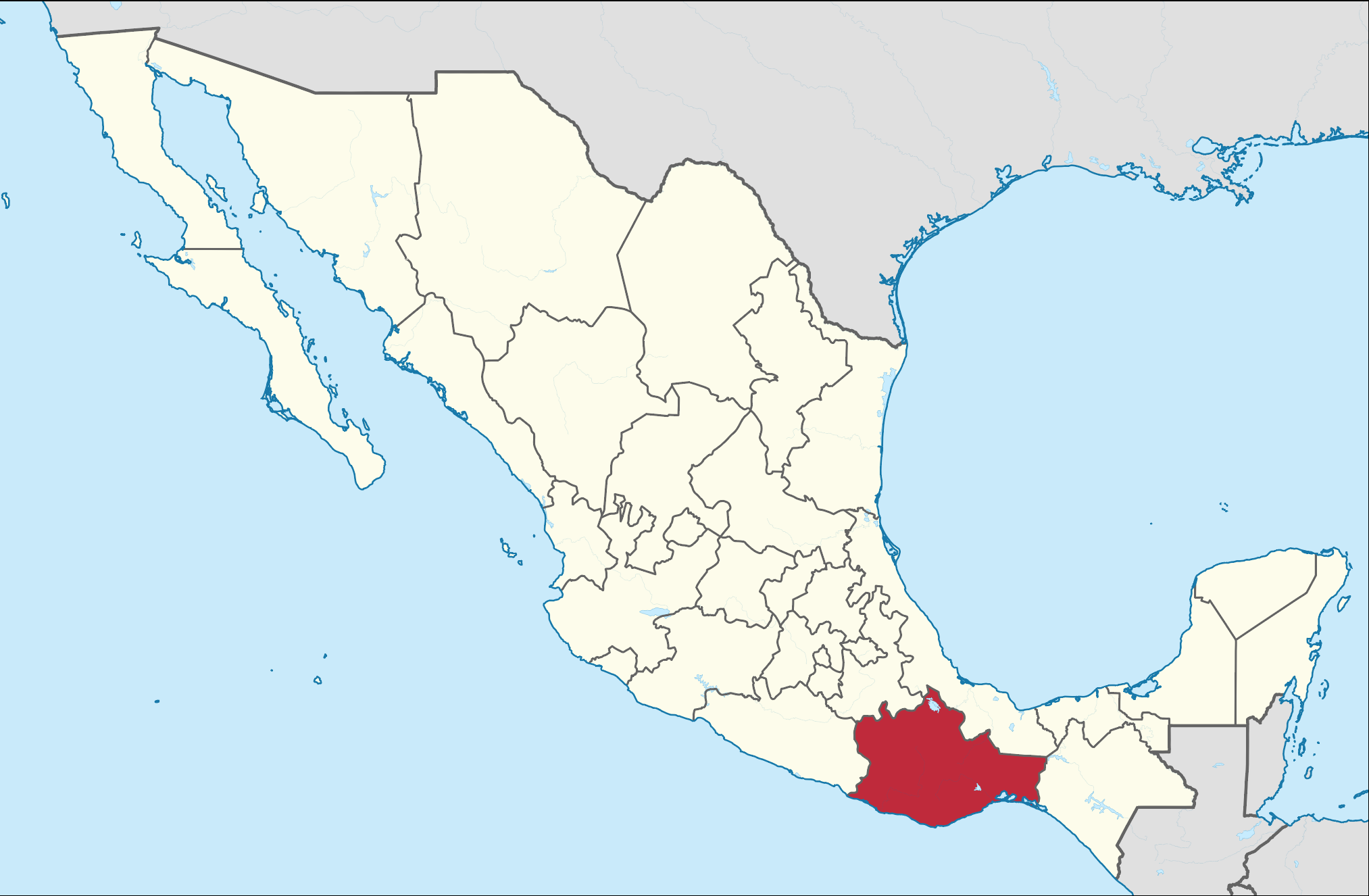 The city of Oaxaca (altitude 5070 ft.) is located in the heart of two verdant valleys and has an ideal Spring-like climate. Folk art, festivals and fascinating indigenous cultures make Oaxaca one of the most magical of Mexico's many colonial cities. Zapotec and Mixtec ruins and traditional rural villages lie just a few miles from the beautifully preserved city center. Streets around the Plaza Principal, one of the prettiest public parks in all Mexico, have been closed to traffic and transformed into pedestrian malls. Colonial haciendas house excellent restaurants featuring world famous Oaxacan regional cuisine; some offer live music at nigh ranging from jazz to tropical. Oaxaca city with its hip cafés, art galleries, and live music scene, has a bohemian feel while maintaining its colonial charm and links to its pre-Hispanic past.
Zapotec Temezcal with Elder Enriqueta Contreras

The Sacred Plant Medicine Adventure includes a rare opportunity to meet and learn from Master Zapotec healer, midwife & herbalist Enriqueta Contreras. We will visit with Enriqueta twice during our time in Oaxaca. One evening you will have the opportunity to experience a traditional Zapotec Temascal (wet steam bath). The afternoon following the Temascal ,Enriqueta will lead a workshop on women's emotional, physical, & spiritual health.
Wet steam bathing has been a ritual part of Zapotec culture for 2,500 years. Doña Enriqueta's traditional temascal (ritual sweat bath) is an experience never to forget. Enriqueta spends all day carefully preparing the ritual aspects, from stoking the fires, preparing the bathing and drinking teas, to creating the flowers/herbs for cleansing. You will have the option to experience the Temascal at the home and clinic of Doña Enriqueta. The actual wet steam bath is one hour and incorporates prayer, toning, singing, laughing & telling personal stories. There is a post-temascal resting space where time is provided for relaxation & meditation while enjoying restorative herbal teas.
About Enriqueta Contreras
Enriqueta is a highly respected and well known elder & healer of the Meso-American Zapotec indigenous people located in Oaxaca, Mexico. She is a descendant from a long line of Zapotec shamans that date back to 500 B.C. Enriqueta owns and operates a health clinic for her community and international visitors. Her history as a practicing midwife for more than sixty years has yielded a flawless career with no mother or infant ever lost during the birth process.
Days 1-4 Exploring Oaxaca; Its Diversity and Local Healing Arts

We will be staying in the heart of the colonial center of downtown Oaxaca in a beautiful boutique hotel. The hotel is within is steps away from many places of interest, parks, restaurants and cafes.
What's Included
(This is an all-inclusive tour with no hidden costs.)
4 nights in boutique hotel in colonial downtown with 2 delicious regional meals daily
3 nights in eco-cabin in the highlands of Oaxaca with 3 homemade organic meals daily
3 day Yoga Roots Eco Retreat with Angela Bailey
Welcoming ceremony and ritual with Spiritual Leader of Toltec Wisdom, Armando Cruz Sanchez
Entrance fees to archeological sites and museums
3 Behind-the-scenes excursions with fully insured luxury transportation
"Temezcal" traditional Zapotec steam bath with Doña Enriqueta
Herbal identification walk and herbal making class
Yoga and Ecstatic dance class with Virginia Flip of Casa del Angel
Off the beaten path tours of Oaxaca City
Dynamic onsite director and guides
Airport transfer to and from Oaxaca City Airport
What's Not Included
Airfare to and from Oaxaca, 2 lunches, 2 dinners, Guide gratuities, Excess baggage charges, Alcoholic beverages, Airport taxes and items of a personal nature such as souvenirs, laundry fees, immunizations or insurance of any kind.
Travel
If you are planning to travel with the group, contact us immediately to find out the specifics of the group flight. The sooner you make your reservation the more likely you will be able to travel with the group. Otherwise you may make other travel arrangements.
Safe & Secure Travel
Each program includes:
Insured, comfortable and air conditioned vehicles are provided for transportation in the host country.
Optional International Medical Travel Insurance for each participant.
Pre-departure advising
Pre-departure and onsite orientations
Risk Management & Crisis management plan
This was more than a trip… where you see the sights and experience great food, meet great people… it was so much more than that… I brought home a renewed gratitude for all I have and all I have to offer… a beautiful journey!Michelle Cobbs, Morro Bay, California
I was the senior woman (81 years Young) on this trip, and I signed up with some trepidation, but "not to worry." For me, the trip was invigorating and very memorable. We interacted with the indigenous people during all the activities planned by our guide and mentor, Dawn, who clearly had our best interests and our safety as her constant priority. We were totally immersed in dancing, singing, yoga sessions, eating and learning. I will not forget that I was treated with love, kindness, consideration, and respect during the entire trip by Dawn, fellow lady-travelers, villagers, my niece and various merchants. Gracias!Edie Juck, Pismo Beach, California
Saying Yes to traveling with Dawn to Oaxaca has been one of the best choices that I have made and will last me a lifetime. It was a beautiful blend of culture, art and ceremony. Dawn exposed us to the most amazing, warm hearted and loving people that whole heartedly welcomed us into their homes and took the time to share their artistry and passion. The kindness of the people, the beauty of the land and the opportunity to experience a culture that has kept its traditional ways was a life altering experience I will never forget. Can't wait to return with Dawn next year!
Angela Bailey, Morro Bay, California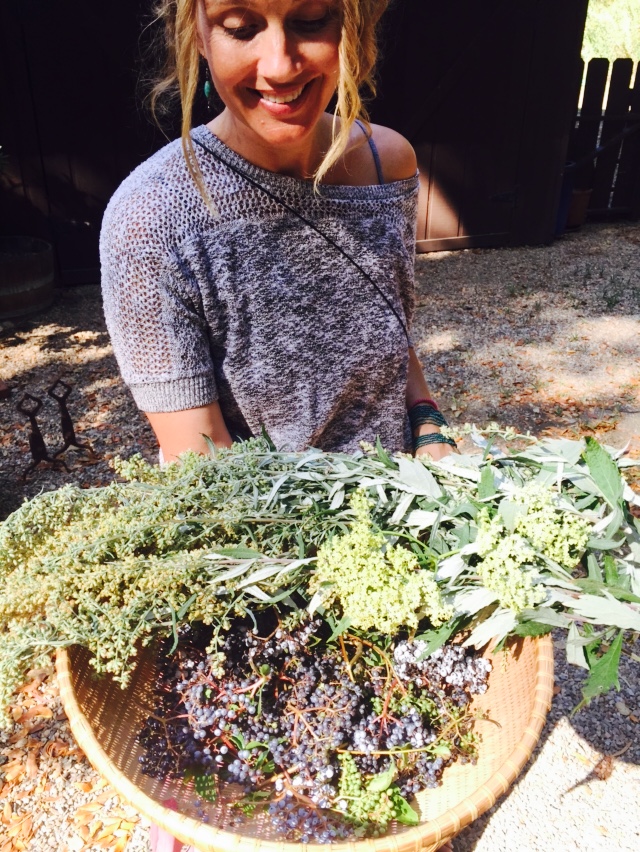 Angela Sarah North
Angela Sarah North is a massage therapist, yoga teacher, herbalist and mother of two teen daughters. Her specialty is Yin Yoga. The yoga of stillness, the yoga of surrender, deep release and harmonizing the flows of prana in the body. Her classes are filled with love, kindness and ease. Angela weaves in teachings of Buddhist psychology, mindfulness and meditation in posture. Angela also loves connecting people to their local environment. To the local healers, the plants themselves and learning their medicinal properties.
You can learn more about Angela at www.sankalpaliving.com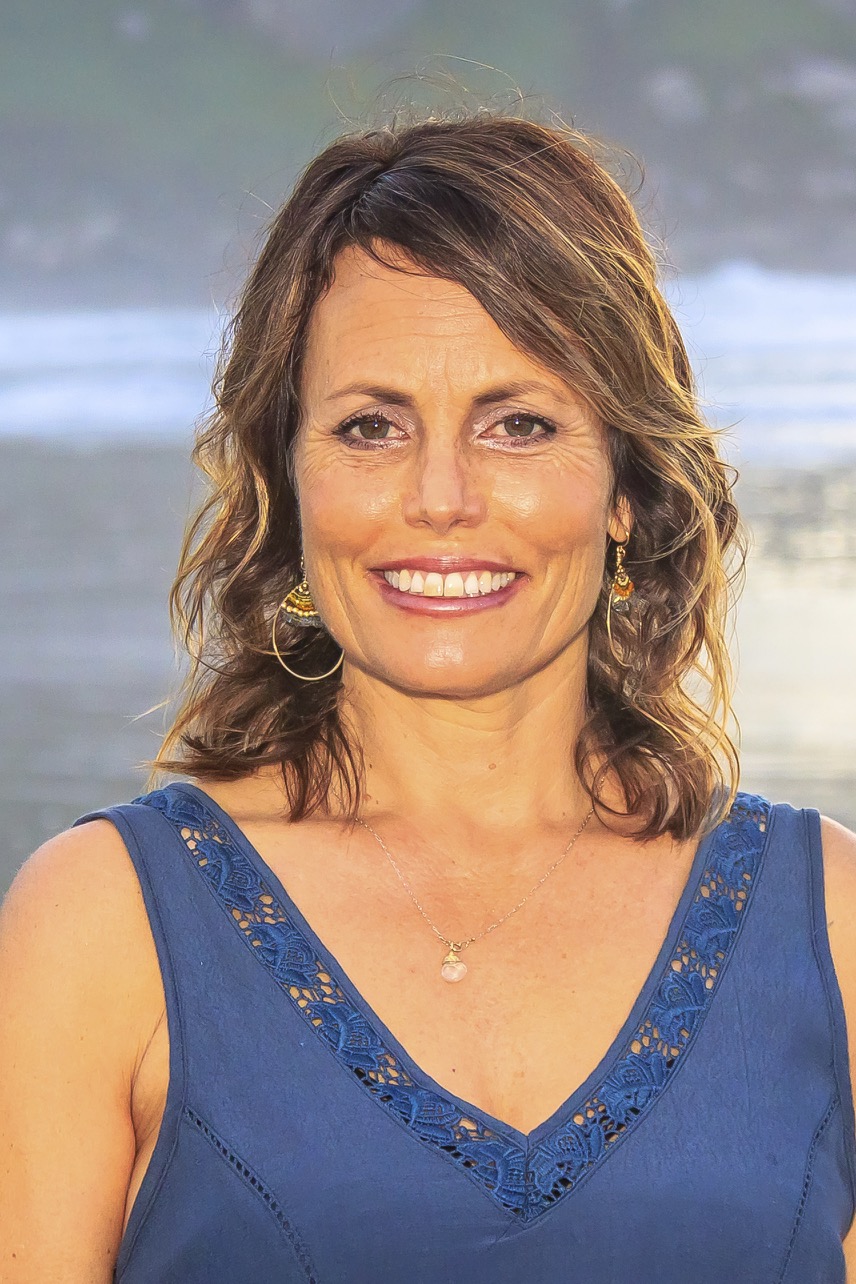 Dawn Feuerberg
(AKA Aurora in Spanish)
Owner and founder of Aurora Adventures, LLC.
Traveling for me is all about the connections. My ability to subtly bridge cross cultural connections between my travelers and the locals abroad is what sets me apart. At a very young age I began to travel on my own seeking out and connecting with the aboriginal, the indigenous and the authentic local life abroad. Often times finding myself being the only non-native in the region. My longstanding relationships abroad give my clients access into an enriching, in depth local experience. I am both well connected and extremely enthusiastic about sharing my access with others.
I value the genuine art of discovery travel for all ages. I create flexible itineraries within my tours that provide individuals the opportunity to make new discoveries. This tone of flexibility and openness in my approach to travel is equally matched with my attention to detail, my ability to multi-task and basically get the job done in a coherent, safe, comfortable and if desired, luxurious manner.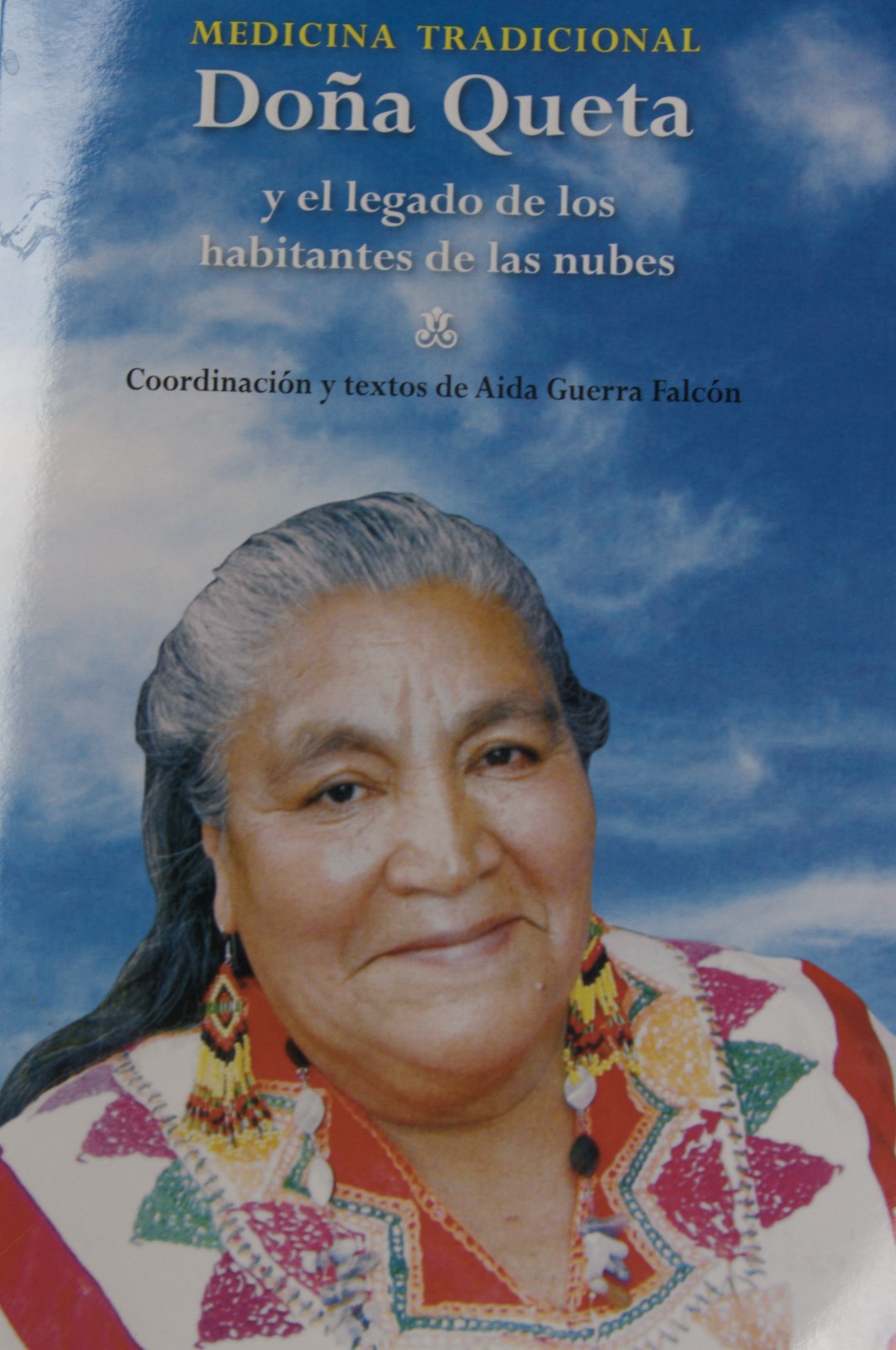 Enriqueta Contreras
Enriqueta Contreras is a highly respected and well known elder and healer of the Meso-American Zapotec indigenous people located in Oaxaca, Mexico. She is a descendant from a long line of Zapotec shamans that date back to 500 B.C. Enriqueta owns and operates a health clinic for her community and international visitors. Her history as a practicing midwife for more than sixty years has yielded a flawless career with no mother or infant ever lost during the birth process.
Doña Enriqueta's traditional temascal (ritual sweat bath) is an experience never to forget. To find out more about this experience go to our Zapotec Healing section.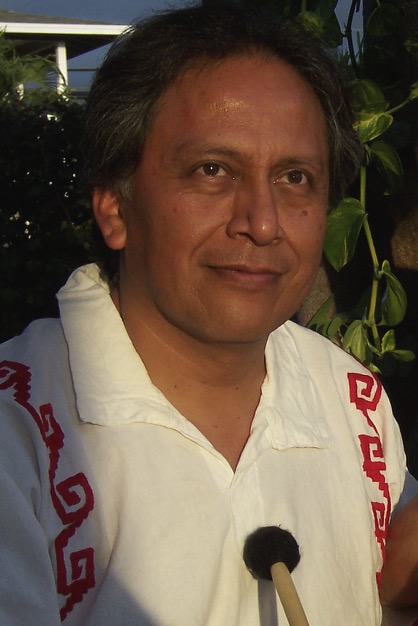 Armando Cruz Sanchez
Armando Cruz Sanchez is the Founder and General Manager of Growing Spaces Taiyari. For the last 24 years he has been offering lectures and workshops in human growth and spiritual awareness in several countries of America and Europe. He has deepened into the practice of eastern techniques like Tai Chi, Chi Kung and Yoga; as well as shamanic Toltec techniques for physical, mental, emotional and energy harmonization.
He has lived and learnt with the surviving Toltecs, the Wirraritari (Huichol people), of the northern sierra of Jalisco. He has also been part of anti-anthropological field work and lived with the Nahua people in the mountains of Puebla, the Lacandon in the jungle of Chiapas, the Quechuas in Peru and the Maya in Guatemalan Peten. Being recognized as Spiritual Guide in all these places. Currently, he is leading Vision Quests and Sacred Journeys. Armando will be leading the group in a Toltec fire Ceremony and meditative walking journey.